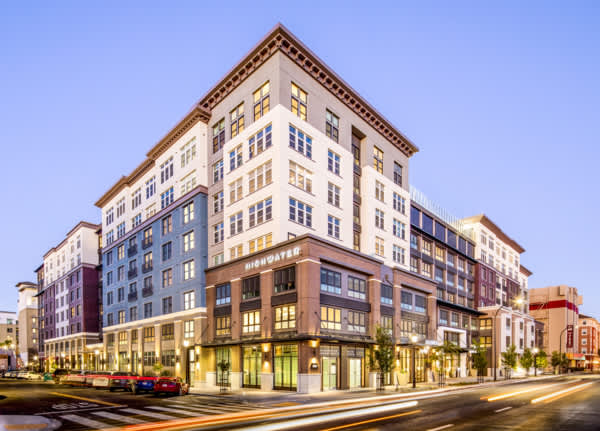 Highwater
1405 El Camino Real , Redwood City, CA 94603
Greystar
| Unit Type | Minimum Income | Rent | Availability |
| --- | --- | --- | --- |
| Studio | $4,826 per month | $2,413 per month | 13 Vacant Units |
| 1 BR | $5,538 per month | $2,769 per month | 14 Vacant Units |
| 2 BR | $6,184 per month | $3,092 per month | 8 Vacant Units |
Vacant Units Available
Applicants will be reviewed in lottery rank order until all vacancies are filled.
How to Apply
Apply Online
Get a Paper Application
Pick up an application
1405 EL CAMINO REAL
Redwood City , CA 94063
Eligibility
Income, occupancy, preferences, and subsidies
Household Maximum Income

For income calculations, household size includes everyone (all ages) living in the unit.

| Household Size | Maximum Income / Month | Maximum Income / Year |
| --- | --- | --- |

Occupancy

Occupancy limits for this building are based on unit type.

Rental Assistance

Housing Choice Vouchers, Section 8, and other valid rental assistance programs will be considered for this property. In the case of a valid rental subsidy, the required minimum income will be based on the portion of the rent that the tenant pays after the use of the subsidy.

Additional Eligibility Rules

Applicants must also qualify under the rules of the building.

Credit History

We obtain a credit report on each applicant. Our credit reporting agency evaluates credit (which may include rent payment history) as an indicator of future rent payment performance. An unsatisfactory or insufficient finding will result in the requirement of an additional deposit, guarantor, or denial. Applicants are responsible for ensuring...

Criminal Background

We obtain a criminal background check on each applicant who will reside in the apartment home. It is possible your application will be denied due to criminal convictions. The criminal background check will not be processed until all other eligibility criteria has ben met. Qualified applicants with criminal history will be considered for housing in...
Process
Important dates and contact information
Features
Amenities, unit details and additional fees
Built

2021

Smoking Policy

Non-Smoking Community.

Pets Policy

The following breeds are restricted from this community: Chows, Doberman Pinschers, Pit Bull/Staffordshire Terriers, Rottweilers, Presa Canarios, Akitas, Alaskan Malamutes, and Wolf-hybrids. There is a maximum of two pets per apartment home. The maximum weight limit for pets is 50 lbs. These restrictions and deposit requirements do not apply to qualified service or assistance animals. Total Pet Deposit is $500 and pet rent is $75/pet. All pets require management approval and may incur additional deposits and monthly fees.

Property Amenities

Rooftop Pool & Lounge, Co-Working Spaces, Fitness & Yoga Studio, Clubroom Lounge, Catering Kitchen, Bicycle Shop & Storage, Pet Spa, Future Onsite Retail Collection

Unit Amenities

Stainless-steel Smart Samsung refrigerator, dishwasher, washer/dryer. Stainless-steel Wi-Fi-enabled Samsung gas range. Undermount kitchen sinks. Hardwood-style wide plank flooring. Contemporary pendant lighting. Delta kitchen & bath fixtures

Services Offered

Curated Resident Events, Lifestyle local recommendation services, technology enabled building access, high speed internet in-home booked direct through the onsite offices.

Additional Accessibility

Common areas are designed to comply with applicable sections of Americans with Disabilities Act, City Building Code and applicable Fair Housing Administration.

Unit Features
Additional Fees
Application Fee
$53.00
per applicant age 18 and over
Due at interview
Deposit
$400 – $5000
Security deposits subject to change pending credit screening criteria.
Fees listed exclude pro-rated move in rent, parking, pet or storage fees. Please contact the property management office for more details on these additional items.
Neighborhood
Location and transportation
Highwater
1405 El Camino Real
Redwood City , CA 94603
Additional Information
Required documents and selection criteria
Required Documents
The following items may be required upon application to verify all household Income and Asset information but are not limited to:
1. Proof of Income: Most recent years' signed Income Tax Returns along with all schedules, W2s and/or 1099s. Three (3) most current consecutive paystubs. Current Social Security/SSI/Pension/Veterans benefit letter. Unemployment/Disability letter along with three (3) months of payment statements. Income verification from current employer or issuing agency for benefits received. Alimony/Child/Gift support document showing monthly income and/or filed court documents. 2. Assets: Checking & Savings Accounts – Three (3) months most recent of bank statements (all pages). Stocks, Bonds, IRA, Whole Life Policy, 401k & all other assets – Most current statement